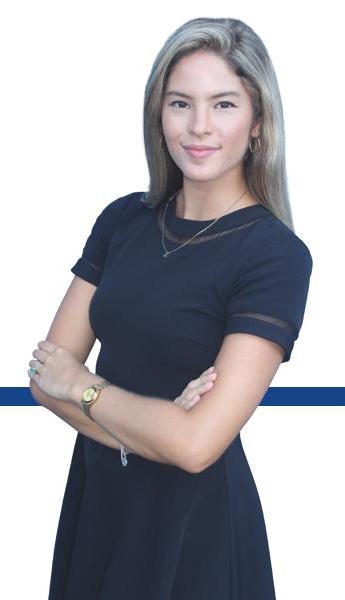 Name: Maria Garrido
Job Title: Real Estate Agent
Company: Ancona Realty Inc.
What was your first job in the realty industry? Being under the mentoring and guidance of my broker, Peter J. Ancona with Ancona Realty Inc.
Where did you grow up? I was born in Cali, Colombia, brought up between two beautiful cities, Popayan and Cali. I moved to Boston to start my college career and then moved to Miami.
Growing up, what did you want to be? I wanted to be everything! I remember very clearly since I was little having the courage to dream big and never look back. It's the motto I live by.
What do you do to relax when you're stressed? Life can get tough sometimes, and that is exactly why I live in Miami. The city itself offers so much to do! I'm a person who loves the outdoors, you can always find me either paddle boarding, surfing, running around in neighborhood or doing some yoga. This city offers all of my favorite hobbies to ease any stress.
If you could have lunch with a well-known figure (living or not), who would it be and why? Off the top of my head, one of the people that I would love to have lunch with or even share a coffee with would be Jane Goodall. As an environmentalist myself, I admire everything she's done for our planet. Just to share a thank you would be an honor.
Where is your favorite place to hang out? The beach or under the sea.
What do you love most about the industry? For me a big part of it is architecture and design. Also, it's fascinating how I can be part of the process in assessing people's needs when they're trying to find their dream house, vacation rental or an investment.
How do you distinguish yourself from the crowd of agents? In me you'll always find respect, knowledge, professionalism, loyalty and dedication; that always shows in the results I give to my clients. The journey that I get to be part of when somebody gives me the opportunity to asses them will always come with compassion and transparency. The market will always have inventory and they will always sell, but you need someone like me to get the job done right.
What is the most difficult aspect of your job? During difficult times not only in real estate, but in life itself, what always helps is keeping a positive mind to find a solution. That way you won't waste time in the obstacle but try and focus on the opportunity to grow and learn.
Where do you go to network and meet new clients? Every encounter you have with another individual is an opportunity to network and expand your business. I try to attend multiple events that help me maintain exposure with my real estate colleagues and community groups that support my public figure.
What has been your greatest accomplishment? I think it's a very broad question because I cant think of only one. I've been fortunate enough to have multiple accomplishments throughout my life and career. I believe that going out there and getting your job done as a citizen with ethics, respect and honesty is the greatest daily accomplishment you can have.
What was the last good movie you saw or book you read? I am obsessed with the movie, "The Shape of Water." It's magical in every sense of the word.
What is your favorite restaurant? Believe it or not no matter how much I visit new restaurants and think of myself as a foodie, I'll always consider my mom's kitchen the best restaurant in the world! But if she's out of town I tend to go to Cipriani, KYU, Lido, 27 and Juvia.
Architecturally speaking, what is your favorite building in Miami? Zaha Hadid's One Thousand Museum tower. And around my neighborhood, The Apogee.
What kind of car do you drive? I drive a 2017 Subaru Outback.
Smartphone or paper? Smarthone. You have access to anything, everything and everyone.
What is your favorite city after Miami? I recently went to Costa Rica and fell in love with the Peninsula Osa. Inside of that peninsula you have different cities like Montezuma and Santa Teresa, they have so much potential in terms of real estate.
In 10 words or less, what is your advice for someone new to the industry? Be patient. Work harder. Organization. You can and will do this!
What's your favorite real estate iPhone/Android app? Flashlight.
Who are your favorite people to follow on Twitter? @TonyRobbins @StephenAtHome @LifeProAdvices