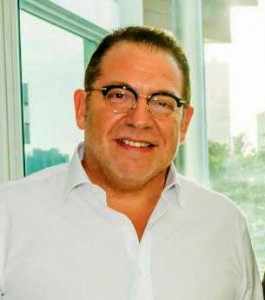 Every week, we ask a real estate professional for their Short List, a collection of tips and recommendations on an essential topic in real estate. This week, we talked with Luis Bebchik, president of Hausscape, on what buyers and homeowners are looking for in their kitchens
4. We want a hood that works but we don't want to see it.
After many years of exposing hoods to living spaces, sophisticated clients don't want to see any design element that conveys the idea of a kitchen. Nothing signifies more the idea of kitchen than a kitchen hood. It's not a surprise that clients don't want to see hoods in kitchens anymore.
There are a few interesting solutions for this trend and the idea to hide the hood inside the dropped ceiling requires a lot of planning but can be achieved with great results.
3. I don't want to see the outlets in the backsplash.
The same way appliances are hidden, electrical outlets also become unnecessary when you want to achieve a minimalistic look.
You can find outlets that pop-up of the countertop and expose a device with 4 to 6 outlets that once they are not in use, it can be locked back into the countertop.
2. I don't want to see the ovens.
Again, how is it possible to have a kitchen with hidden ovens? Today you can find kitchens that have special modules that hide ovens by means of mechanism of receding doors. The doors slide into the cabinetry and expose the ovens and microwaves leaving the doors open as long as the use of the ovens is completed. The interesting technical feature of this cabinetry is that if the doors close down, there is an automatic electrical shut off device that disconnects the oven immediately to avoid any fire hazard.
1. A kitchen that doesn't look like a kitchen.
It sounds contradictory, but it is not.
I have heard in the last 15 years many clients that want to hide the archaic idea of an open kitchen but still keep it open and integrated to the living spaces.
This is a very sophisticated concept that can only be achieved with a very seasoned designer that will use the elements that compose a kitchen in a way that once it is finished, the integration with the rest of the living space is balanced and functional.
Using the same finishes used in the rest of the space to match the kitchen cabinetry is an easy solution. The sophistication comes only when typical kitchen elements like backsplashes, sinks and appliances vanish within the cabinetry.
There are very few manufacturers that can achieve this.
---
Luis Bebchik founded hausscape with an innovative and functional approach to design. In 2002, he and his wife and business partner, Laura Bebchik, started hausscape with their combined over 40 years of experience to offer the world's most sophisticated and advanced kitchens. Since the company's inception, he has personally been involved with large scale residential projects in the Caribbean and private luxury residences in South Florida. As the president of hausscape, he leads a multidisciplinary team of skilled designers to create refined and functional spaces.